Up on the podium Claire grins from ear to ear. She throws her arms in the air and waves her stump with pride. With a gold medal around her neck, her dreams are bigger than ever. Because whatever she can't do today…she knows she will conquer tomorrow. – from the book, Splash.
Emerging
The little girl at the end of this children's book is the alter ego of Claire Cashmore, the 5-time Paralympian. In real life, it took many more years for Cashmore to build a conqueror's mindset. The native of Redditch, who has won 9 medals for Great Britain in swimming and paratriathlon, was born without a left forearm. This difference resulted in a childhood of self consciousness and self pity.
Like any kid, Cashmore wanted to fit in. But she felt her arm that ended in a stump set her apart. So she actively hid it.
"In the summer, when it was boiling hot outside, I'd always wear a jumper," Cashmore told me. "Or I'd put a blazer over my arm. Or I'd position my bag on that side. I hid it well."
The only place she felt comfortable in public was in the pool. "I loved the water. It felt like freedom, that feeling of being encapsulated by water, a blanket around your skin. I'd play for ages in the pool." And as she built competence in a local swimming club, she began to win competitions.
In 2004, she made her Paralympics debut in Athens, where she had a mindset shift that changed her life. She found herself in the presence of people who were not stopping themselves.
"Athens was a real turning point," she said. "Until then, I had no role models. I was 16 and so self conscious about how I was different. But in Athens, I was surrounded by so many people who were achieving so much despite their limitations, not feeling sorry for themselves. I made a decision then. I was not going to hide my arm."
Cashmore won two bronze medals swimming in Athens, and medaled at subsequent Paralympics and would go on to become one of ParalympicsGB's most recognized Paralympians. In the run up to the 2012 Paralympics, she was featured in Channel 4's celebrated campaign marketing the London Paralympics, famously called "Meet the Superhumans." This campaign and the success of the London Games marked a shift in public perception towards persons with disabilities.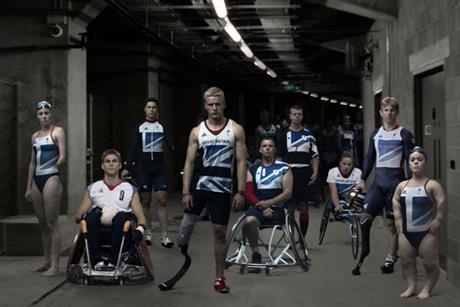 "When I first started work on the campaign, I didn't realize how major it was," she told me. "At that time, nothing was major with the Paralympics. I walked to the pool and saw the cameras, the trucks…and then when the campaign started, the billboards. It was awesome! That campaign really opened eyes up. Finally we were seen as elite athletes as opposed to people with disabilities. We were seen as role models."
COVID Strikes
Like many of her peers, Cashmore was hard at work in 2019 preparing for Tokyo2020. She was making the transition from swimming to the paratriathlon, and was doing so well, she was seen as a favorite for gold in Tokyo.
And then the COVID-19 pandemic cast a murky cloud on all life's activities around the world. Athletes were unsure about the future. They had little or no opportunity to train. Like everyone else, they had a lot of time on their hands. Time to think.
It was 2020, and Cashmore was having a conversation with her sister. London was in lockdown, and the Black Lives Matter movement was gaining global traction. Cashmore felt the Black Lives Matter movement was about representation, or the lack of it for certain members of society. She told her sister that she could relate, that people with disabilities were also lacking representation in all aspects of life.
That's when her sister, a teacher, said, "stop moaning about it and do something about it." And over the course of this sibling dialogue emerged the idea for a children's book, an opportunity to change perceptions of impressionable kids towards persons with disabilities. As Cashmore writes in the foreward of her 2021 book, "my intention in Splash is not to draw attention to my limb difference, but instead to normalise it."
How many people do you know who trained for Tokyo2020 AND wrote a book during a pandemic lockdown? I know one.
Tokyo2020
Finally, Cashmore and her teammates got their wish – the Tokyo2020 Olympics and Paralympics were given the green light. She is grateful to the host town of Miyazaki in Western Japan, where she and her teammates were able to swim, run and cycle with relative ease for two weeks, allowing them to acclimate to Japan before heading to Tokyo for the Paralympics.
Her paratriathlon team did not stay at the Athletes Village, residing instead at a hotel near the paratriathlon course, and were grateful to the hotel and their employees who met all of their needs. "They really bent over backwards to make sure our stay was perfect," she said.
And she was grateful for the Japanese people.
"I was expecting nobody to be around because spectators weren't allowed," she said. "But there were so many people cheering for us, no matter what country we were from. They really backed us. When you think about what was happening in the world, the fact that there was a bit of a crowd watching us was really special."
Cashmore won the bronze medal in her Paratriathlon competition, which she said was bittersweet because she hoped to do better. She was frustrated by incurring a penalty during the cycling phase of the race, which meant her chance of catching the leaders was essentially impossible.
But Cashmore is a veteran who has grown, progressing from a self-conscious teenager to a world-class athlete who has encountered countless high-profile challenges and taken them on with determination and professionalism.
"I was really proud that I managed to keep my cool, keep my head in the moment of craziness and hold on for that bronze medal," said Cashmore, who has re-set her sites on Paris.
And as her alter-ego Claire said at the end of Splash, "whatever she can't do today, she knows she will conquer tomorrow."